WLCO Interactive Webinar with Yuka Kurihara
June 25 @ 4:00 PM

-

6:00 PM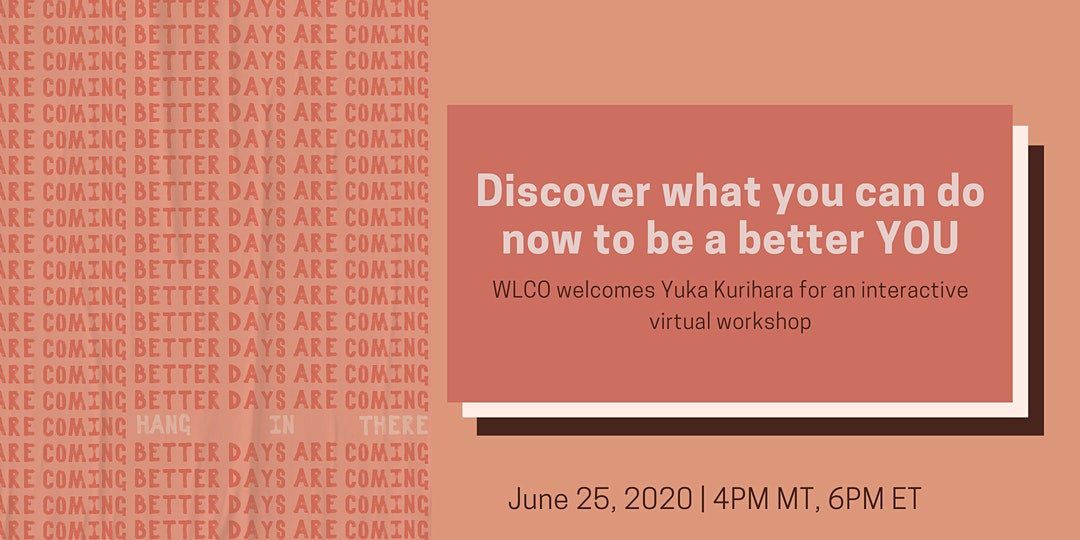 Discover what you can do now to be a better YOU.
About this Event
Let's face it, we are in the midst of the biggest health and economic crisis in human history. COVID has impacted all of us in some way. What's more important now is to decide how we respond to the crisis and move forward.
In this interactive workshop, we will use one of the Design Thinking methods to brainstorm how we can make our lives better. Collectively as a team, we will explore 6 dimensions (Health, Profession, Environment, Financial, Relationship and Fun). After the workshop, we will walk away with a new outlook and practical tips we can apply to our daily life. Please come to the session with an open mind and be ready to participate.
This workshop is facilitated by Yuka Kurihara, Principal Consultant at Globalization Advantage. Yuka has more than 20 years of experience in building and leading Globalization Strategy, Program Management, Localization technology platform and operations. Most recently she was the Director of Globalization at Pitney Bowes, focusing on global content creation, localization and delivery as well as international product management and customer experiences. Yuka is a certified Design Thinking practitioner.
https://www.linkedin.com/in/yukakurihara/
Twitter: @yukag11n