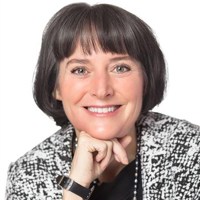 MOUNTAIN VIEW, California, USA, January 22, 2019. Women in Localization (W.L.), the leading professional organization for women in the localization industry, is proud to announce Loy Searle has accepted the role of President effective January 1, 2019. Searle previously held the position of Vice President and will continue serving as a Board Member and sponsoring Education and Mentoring.
Searle said, "I love being part of this organization. I think we bring value to women in our industry and this requires a contribution of love and effort from all of us. It can mean each of us serves in different ways and that our contribution may change over time. For me, giving back means stepping into the role of President this year."
Other leadership changes for 2019 include the creation of two new Board-level roles and new members joining the organization's leadership team. Cecilia Maldonado will become Director, Chapters and Global Growth, Allison McDougall will return to the Board as Director, Membership and Monica Bajaj will join as Director, Technology. Liesl Leary will serve as 2019 Vice President while maintaining her role as Director, Marketing.
2018 President and Women in Localization co-founder Anna Schlegel takes on a new role in the organization as Director, Office of the Chair. Schlegel said, "Loy worked side-by-side with me during 2018 and I could not be more thrilled to pass the baton to her. It was by design for the Vice-President to be my successor. Presidents take a 1-year term and Loy has been training hard for this role, as well as being a long time Board veteran. She is a strategic thinker, a phenomenal globalizer and expert in large team building who has the full confidence and support of the Board."
After experiencing rapid expansion in 2018, Women in Localization will focus on strategically managing its growth in 2019. One area of emphasis will be to ensure that the needs of the organization's global members are being met.
Searle said, "There is a bit of 'special sauce' to us as an organization, which has a lot to do with how each Chapter has worked to engage their local members and built community. Our challenge as a broader organization is to protect and nurture this while identifying repeatable actions that Chapters can share and benefit from, even if the members in different geographies have never met."
As a volunteer organization, Women in Localization emphasizes succession planning and will continue to mentor new leaders to drive the organization's goals. The focus remains strongly on encouraging new talent who can one day take on a leadership position and help the organization mature.
"Our members donate their time and effort," Searle said. "What's great about this is that we can provide a place for women to grow their skills and leadership as they volunteer. What's challenging about this is ensuring that each Board member and executive is thinking about who can step up next to ensure continuity and succession. Some of the roles take a lot of time, so rotation has to be part of a healthy volunteer organization strategy."
Searle's plans for 2019 include strengthening Women in Localization's foundations to prepare for continued growth. Areas of targeted emphasis will be Membership, Programs and an anticipated launch of six new global chapters.
2019 will also bring an emphasis on Women in Localization's purpose and values, which include Support, Empowerment, Commitment and Belonging.
"We will continue to strive to lead like we would like to be led, to support each other as we would like to be supported and to provide a place where women can lead, feel supported and know they belong," Searle said. "I know we can continue to accomplish great things together!"
About Women in Localization
Women in Localization (W.L.) was founded in 2008 by Silvia Avary-Silveira, Eva Klaudinyova and Anna N. Schlegel, and is the leading professional organization for women in the localization industry with over 5,000 members worldwide. Its mission is to foster a global community for the advancement of women and the localization industry. It aims to provide an open, collaborative forum where women can share expertise and experience and help each other move forward in their careers. Started in the San Francisco Bay Area, W.L. has expanded its membership to include women across the globe, encouraging members to meet in other local geographies. To learn more, visit https://womeninlocalization.com.  You can also follow W.L. on Facebook, Twitter, and LinkedIn.
Media Contact:
Liesl Leary
Women in Localization
Phone: (415) 203-7179
Email: lleary@sdl.com
SOURCE Women in Localization
Related Links https://womeninlocalization.com