Check out part two of our three-part series where three localization industry insiders examine where they are today, look back on their decisions and offer advice to their 21-year-old self.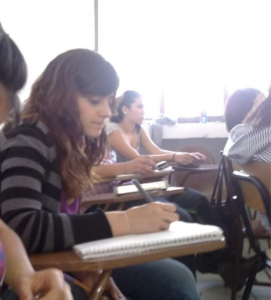 Dear Younger Mitzi,
Stop hesitating; you made the right choice.
Tough as it may seem every year, you are one step away from being part of the multicultural niche you always dreamed of. Just mark my words: whoever said patience pays off is absolutely right.
You have every right to feel doubtful at first, as not everyone seems to be aware that Translation is an ancient, yet fast-evolving career. Additionally, technology is taking over and pulling down cultural language barriers at the speed of light. Well, you will need to persist and the question of whether being a translator is a sustainable job or not, will be unveiled… eventually.
Studying Translation will not only be an immense opportunity to develop your linguistic competence, it will make you more accurate and knowledgeable. In addition, it will give you an extensive view of the impact that the speech has on us, especially when all the cultural and linguistic breaches are deemed beforehand. This will lead you to the importance of cultural awareness, which plays an important role in the adaptability of a text or product for a specific target, and – commonly overlooked by many – is linked to a successful technique of expansion: Globalization.
You still have a long way to go on this, but the word Globalization conveys inclusion and diversity, terms that will be a must in the upcoming years, which lead to suitability and then profitability. Throughout its different phases, Localization enables accessibility and it relies on Translation to achieve naturalness when delivering a message for a specific target.
Setting up your Operating System in different languages? Watching blockbusters dubbed or subtitled in your mother tongue and still create the same feeling as in the original? That was only the beginning.
And just like we hear every day: technology is here to stay and will start having more influence on our daily routines. At the same time, all these changes will inspire you so much that you will desire to pertain to a culturally rich environment. Do not give up, your endurance will take you to one of the most lucrative branches of Globalization, and once you're standing there, you will thank yourself for not giving up and trusting in your capability.
Sincerely,
Older Mitzi Magali Diaz
What advice would you give your 21-year-old self? Join us for part three of our three-part series to be published next week! If you missed part one, check out Kathy's letter here.