On September 14th, 2018, Women in Localization Beijing Chapter hosted a salon to celebrate the 10th anniversary of the Women in Localization (W.L.).
Many enterprises like Pactera, Beyondsoft, RWS, VMware, Canon, Didi, Glodom were invited to attend this event. Also professors and students from Peking University, University of International Business and Economics, Renmin University of China, Beijing Language and Culture University showed their presence as well.
At 2:40pm, Ellen Ma, leader of the Women in Localization Beijing Chapter, kicked off this event. Ellen first warmly welcomed the guests from both businesses and universities. Then she gave a brief introduction to the W.L. and shared the good news that W.L. has now been officially listed as a non-profit organization. Also, Ellen emphasized the spirit of W.L. and hope everyone in Localization industry can have more interaction and communication through this platform.
Later, Professor Cui Qiliang from UIBE were invited to the stage and shared his perspective about this kind of event. He believes that salons like this are helpful to the students who are now learning localization and conducive to those who are now engaging in the localization industry. And more cooperation between companies and universities are expected in the future which will promote the industry development.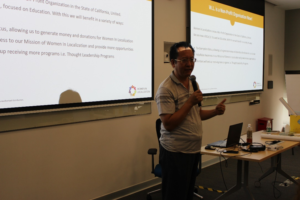 Then a warm-up game was hosted by Sarah Qiao, who is in charge of the social media of W.L. Beijing Chapter. Every participant enjoyed the pleasant and relaxed atmosphere as if we were back to the childhood.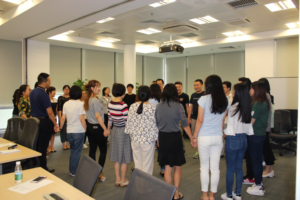 The next session is discussion. We have prepared some questions regarding work and life. The participants were divided into groups and then they selected two questions and began heated discussion.
Then every group had one member shared the discussion results about the questions. Some shared their career development and lessons they've learned. Some shared the secrets of work-life balance. And suggestions were given for students present about how to equip themselves with necessary skills.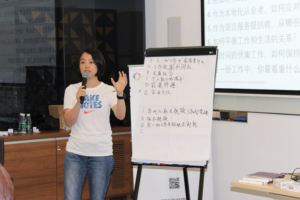 The last session is mooncake making. As Chinese Mid-Autumn festival was just around the corner, we have prepared the special session of making snow skin mooncakes. Under the guidance of the baker, everybody was absorbed in rolling the dough, wrapping the doll with various of filling and shaping the mooncake with the mould. Everyone was having a great time making mooncakes and talking to others. Some say under the cozy atmosphere in-depth communication were easily made.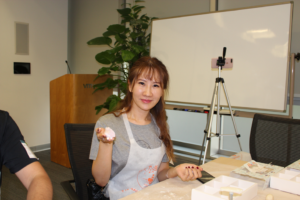 The salon concluded successfully at 5:30 pm. Participants were satisfied with this event and hope there will be more events coming.