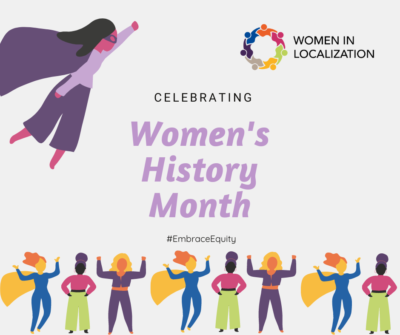 This year the International Women's Day (IWD) website encourages everyone to think differently about equity. The site asks us to imagine a gender-equal world that is free of bias, stereotypes, and discrimination. A world that is diverse, equitable, and inclusive. A world where difference is valued and celebrated.
What is the difference between gender equality and gender equity? The United Nations defines them the following way: "Gender equality, equality between men and women…does not mean that women and men have to become the same, but that their rights, responsibilities and opportunities will not depend on whether they were born male or female. Gender equity means fairness of treatment for men and women according to their respective needs. This may include equal treatment or treatment that is different but which is considered equivalent in terms of rights, benefits, obligations, and opportunities."
When Women in Localization (W.L.) was founded 15 years ago by Anna N. Schlegel, Silvia Avary-Silveira, and Eva Klaudinyova, equality was an important part of their mission.
Back then, the gender pay gap was accepted practice. In the late 1990s, Lilly Ledbetter sued her employer, Goodyear, for pay discrimination and won her suit, only for it to be overturned by the US Supreme Court. The Court's ruling stated that you had 180 days from your first paycheck to sue your company for discrimination. If you didn't, then the employer can continue to pay you less without consequences.
Lilly Ledbetter spent the next 10 years lobbying and fighting this ruling. It was only in 2009 that the US Congress passed the Lilly Ledbetter Fair Pay Act and President Obama signed it into law as his very first piece of legislation.
In comparison, in the European Union, the right for equal pay has been law since 1957, yet the gender pay gap was 17.5% in 2008. Today it is 13%. Data for Asia in 2008 is harder to find, but the same picture is presented – women are paid less than men for the same kind of work, and still are today.
Unfortunately, equity continues to be as elusive today as it was in 2008. In 2008, only 12 Fortune 500 companies had female CEOs. In 2022, it's 41, but that's still only 8.1%. Globally in 2008, there were only seven female heads of state – the highest executive position of power in a state or country. In 2022, it's 15 out of 195 countries in the world.
In 2008, there were no female Vice Presidents working in localization on the client side. If you wanted to be a Vice President, you had to go work on the supplier side and be two or three times better than your male counterparts. And, since you were probably the only woman at that level, you were dealing with the "old boys club".
When Anna, Eva, and Silvia co-founded the Northern California Women in Localization group in 2008, the gender pay gap was accepted practice. With this new group, they wanted to create a safe space for women to collaborate, network, and find support when faced with workplace challenges.
The fight for women's equality started over 50 years ago in the 1970s. While progress has been made since then, more and faster progress was made between 1970-2000 than today. Even though every decade seems better than the last, recently the patriarchy has started to push back very hard against equality and women's rights, especially in the United States.
Despite this tide, there is one optimistic area where women are overtaking men: Education. Women not only achieved equality but surpassed men in the amount of graduate and PhD level degrees in 2015. This means that today women are actually more educated than men!
There is still a lot of work to do before we reach the world that the International Women's Day website imagines, where women are truly equal in all areas. If you're wondering where to start, here are a few easy ways to promote equity3:
Support equal pay for equal work
Avoid gender stereotypes and educate others about them
Stand up against harassment
Find female mentors and role models
Share the workload at home
Donate to women-focused charities
Stay informed about gender equity issues
"It is up to us to fight the fight at every level we can and to be there for each other," said Eva Klaudinyova, Co-Founder of Women in Localization. "We can only win this fight if we all work toward the same goals, we support each other as women, we create the right opportunities for women, we help each other learn and thrive. And this is what Women in Localization is all about."
Thank you for being a part of our global community to support the advancement of women in the localization industry by embracing equality. Happy International Women's Day!
About Women in Localization
Women in Localization (W.L.) was founded in 2008 by Silvia Avary-Silveira, Eva Klaudinyova, and Anna N. Schlegel, and is the leading professional organization for women in the localization industry with over 5,000 members globally. Its mission is to foster a global community for the advancement of women and the localization industry. It aims to provide an open, collaborative forum where women can share expertise and experience and help each other move forward in their careers. Started in the San Francisco Bay Area, W.L. has expanded its membership to include women across the globe, encouraging members to meet in other local geographies. To learn more, visit www.womeninlocalization.com. You can also follow W.L. on LinkedIn, Facebook and Twitter.