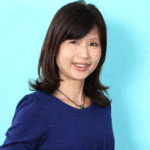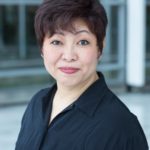 My name is Yukako Ueda and I opened the first Japan Chapter of Women in Localization in March 2015.

Today, Miyuki Mori is our new Chapter Manager since the 1st of January. We are a group of 78 members which grew from 15 in one year! Here is how it all came together…


Great Idea coming to my mind – having Lunch with Yuko!
One day in May 2014, I decided to contact my ex-colleague, Yuko the best expert in Machine Translation I know. I invited her home for lunch. Why did I want to meet her? – because she is the one of the few persons I know who really loves Machine Translation in Japan. I wanted to catch up with her and talk shop… I had so many MT-related questions! I didn't want a sales pitch, I wanted her business perspective. She is a true proponent of Machine Translations, so I was in great hands.
Our lunch was excellent. She met my expectations, and I think she liked my lunch! Her words encouraged me to move ahead with MT. We talked for hours, super excited to not just be great friends, but to be in deep discussion on MT implementation.
After I met with her, I started thinking seriously to create a community for anyone in the localization industry in Japan to get together and learn the latest trends or technology. I dreamed a place that any buyers, language service providers, as well as freelancers could ask and answer questions casually and openly. Then, I recall a conversation I had around that time with Anna Schlegel, Women in Localization Co-Founder, and Board Member to open up the first Chapter of Women in Localization in Japan. Yes, I should take the action!
OK, let's plan opening Japan Chapter
I contacted Yuko again and asked her to help me open this exciting community. She said, "yes, I'll help you with anything you want!" What a good friend I have! We started to discuss how we can make it happen.
We believed 3 things are key to make it success in Japan:
Can we create causal atmosphere that any attendees can speak up?
Can we provide valuable topics and great speakers?
Japanese as a primary language for the sessions
Can we create causal atmosphere that any attendees can speak up?
If you have ever made a speech in Japan, you will know that you get little or NO questions from the Japanese audience. Don't worry, it doesn't mean your presentation wasn't interesting. Japanese people just don't ask questions in front of others for two reasons. One is because they feel shy to ask questions in front of groups. And the second is that they are afraid of being thought of asking "silly" questions.
Japanese folks typically ask you questions in person after the session is done, or leave the questions unresolved. I wanted to avoid these typical Japanese behaviors in our sessions in Women in Localization Japan. We need to create the super-casual atmosphere that any attendees can speak up.
In addition to such general Japanese culture, I thought we might need to take down fences existing between "freelance translators vs. LSPs", or "LSPs and vs. Buyers" to accelerate free discussions.
Here are our solutions:
Venue – Luckily, my company, NetApp, is supportive for the activities supporting women, and accepted us to use its conference rooms often. We selected a room having a horseshoe-shaped table rather than having many tables in classroom style so that everyone can see the faces of each other.
Schedule – We decided to schedule every event to last 2 hours. Japanese are very punctual and this would help.
Refreshments – We decided to prepare for various kinds of pinchos and drinks so that everybody can keep talking without losing energy. We like to avoid getting sponsors for the refreshments unlike any other chapters. Once we allow to have sponsors for our events, the Japanese attendees would start minding about the sponsors.
Opening – I decided to start every event with a short speech to make every new attendee know this is a community that you can forget about the day-time business relationships and it purely exists for developing ourselves. I emphasized that attendees can walk around the room to pick up food, or drinks even while the presentations run.
Can we provide have great topics and speakers?
OK, we defined the outline of the program. Next, we needed to decide the topic for the first event to get new members for Women in Localization Japan.  I wanted to select different kinds of topics from the ones that are preferred by anyone in the localization industry regardless of the level of understanding or the experience. I was confident that many people wanted to hear positive information on MT from a Japanese expert, like I did. It must be interesting to the attendees if the MT related session would be given by a Japanese person who really loves MT and has passion to propagandize MT in Japan.
I asked Yuko to give an MT-related session in the first event. She accepted it right away. She prepared for a session entitled "how to parent Machine Translation" and it got dramatic success.
Let's keep using Japanese as a primary language for the sessions
Japanese expect every session in Japanese. Even if the presenter is an English to Japanese translator, we did not want anyone feeling uncomfortable. We chose Japanese as the primary language to use in the events for Women in Localization Japan. We would consider exceptions if needed. This contributed to making a causal atmosphere so that any attendees can speak up.
I found 3 great additional Assistant Managers and lots of friends in the industry
The first event of Women in Localization Japan was organized in March 2015 by Yuko and me. We had approximately 20 members at that time. After that memorial event, I recruited 3 great women, Yoko Chiba, Mai Sawamura, and Miyuki Mori as Assistant Managers for our Japan chapter. I had never met them before the first event, but we soon became good friends and frequently got together. They offered great support. Getting friends like them is the biggest outcome for me by launching Women in Localization Japan.
Similarly, I became friends with many people in the localization industry. This is fantastic. I have various friends to consult when I need any advice or info.
We grew up with Kids
From the 3rd event in October 2015, we started to encourage the attendees to bring their children.
When we held our 1st event some members couldn't attend it, and some cancelled the participation in the last minute because they couldn't find someone to take care of their children. That's the reason we wanted to promote the fact that our members could bring their kids moving forward.
NetApp Japan supported this idea with enthusiasm, and we could even borrow the polyurethane playing mats used at "NetApp Kids Day" every year.
Acknowledgment
I can be proud of this successful launch that could be accomplished with the kind support and help of many people. Here are the names of only a part of them, sorry that I can't list up all of the names!
Anna Schlegel, for suggesting me to open Japan Chapter and keeping supporting me
Eva Klaudinyova, for spending lots of time to guide me how to open the chapter
Edith Bendermacher, for keeping my sprit up
Yuko Sasaki, I never even thought of opening the Japan chapter without YOU
Miyuki Mori, Yoko Chiba and Mai Sawamura, for having joined the team of Assistant Manager, and spent the valuable time with me together