Can you imagine packing everything for your gap year, crossing the ocean and starting off as a nomad freelance translator from a tiny van in Melbourne, Australia? That's exactly what Marta did in 2015, just after she graduated from Translation and Interpreting Studies in Trieste, Italy.
Marta is an Italian translator, interpreter, digital content creator and language teacher. Her passion for languages dates back to her first English lesson at primary school, while her wanderlust has brought her to travel, study and work for long periods around the world since she was fifteen.
Here we get to know more about Marta's nomad life, how it all started, her tips and projects for the future.
Nice to meet you, Marta! Tell us about your nomad story, how did it all start?
Just after graduating, I took a gap year to explore Australia, where I worked in restaurants and bars on a working holiday visa. After nine months roaming Down Under, I ended up in Melbourne, where I started exploring new options to earn a bit more and keep travelling to South East Asia. Back then, I was travelling and living in a van.
I got in touch with a friend from university who was working in a translation agency in Europe, and that's when my life as a nomad translator started. I began cooperating with the agency where I could count on a steady workflow, I hired a Tax Consultant in Italy to help me with paperwork, and it was all set.
At that point, some kind of magic happened – I realised that I could literally work while travelling. I was a nomad freelance translator, and I knew I was never going to go back. Before that move, I didn't think that a location-independent job was even possible at all.
Since then, I'm either on permanent travel or travelling at least 4 or 5 times per year, mostly as a backpacker.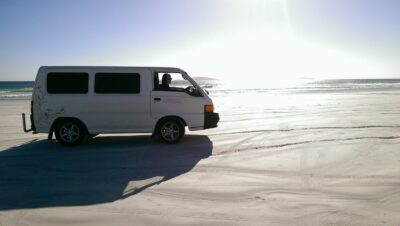 What are the main challenges of starting and pursuing a career as a translator while travelling?
When I started working from Australia, I was a newbie translator.
From organising my own schedules to understanding my productivity and availability, from being responsive to managing deadlines across time zones, this was all new to me.
Plus, I wasn't living in a huge caravan or a cosy converted van. It was an actual 9-seater van, so I had to find my office for the day, every day.
You would think Internet is the hardest thing to find while travelling but, from my experience, I can tell you power supply for your laptop is more complicated. You have to think very carefully about the battery hours you will need for the day, and finding spots to recharge your battery is not that easy.
Time zone can be an issue for some agencies and a good thing for others, depending on their locations and ways of working.
Some people may have issues with focus and distractions, but this is not a problem for me, as I'm really able to focus in the middle of chaos.
Which are the craziest places you have worked from?
Oh, I can list a few…
Imagine it's 11:30 PM in the Middle of Nowhere in New Zealand. I was camping and enjoying a wonderful starry night. New mobile notification: RE: Urgent Request: Short translation due in one hour.
No Wi-Fi, no laptop battery. I drove my car to the closest fast food, asked the crew if I could stay and use the power supply as they were about to close, bought some ice cream and nailed my translation.
I have worked from a pub in the middle of the Australian desert, from a tent, from hostels' kitchens and dorms, trains, buses… basically everywhere I can sit down, have power supply and decent Internet connection.
Which is your favourite spot in the world?
That's a hard question, as I have enjoyed all places I have travelled to, but I would say Australia and New Zealand have a special place in my heart.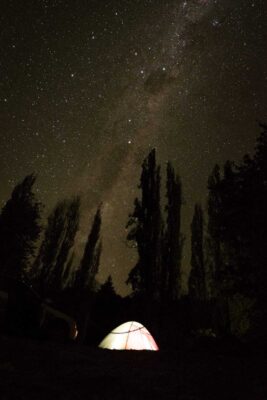 Which is the best spot to live a location independent lifestyle?
South-east Asia! Places are wonderful, people are friendly, life is very cheap and Internet is everywhere, including the most remote islands.
What is the hardest thing about this lifestyle?
I would say, the lack of comfort. If you are home, and you are hungry, you open the fridge and eat. If you want to take a shower, you just head to your bathroom. If you are tired, you can rest in your own bed.
You can't do that when you travel all the time unless you have a fully equipped caravan, of course.
And of course, missing your loved ones is very hard.
And the best part?
Feeling alive and being far from the everyday life, meeting like-minded people from all over the world, speaking different languages every day and enjoying the nature as much as you want.
Tell us about your future projects.
Last summer, I bought a van and started a conversion project with my boyfriend to make it our home for future travels. Our plan is to travel through Europe and reach Scandinavia while working from the van. For the first time, I'm really focusing on adding a bit of comfort. I designed the details taking into account the way I work, the right desk and bench heights, my sitting preferences. We are super excited about this!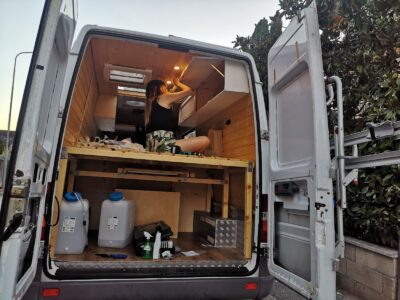 Thanks, Marta, for sharing your amazing story with the community of Women in Localization.
Before saying goodbye, do you want to share practical tips for nomad translators?
It was my pleasure, and I'm really happy to share my experience with such a supportive network for women in our beloved industry. Here are my 4 top tips:
Study your location in advance! I mostly use TripAdvisor and local apps to get information about facilities, Internet connection and power supply.
Invest in a lightweight laptop with the best battery life, multitasking and large memory for downloads.
Have plenty of charged power banks and emergency lighting devices for urgent assignments or issues.
If you know you won't be working from a comfortable place, try to break your tasks into smaller bits, so you won't find yourself sitting in a tiny restaurant chair for long hours ending up with bad back pain.