While roughly half of all online gamers are women (42% in 2015), there is a widespread belief that the gaming industry is unwelcome to women. Only one in five game developers is a woman and female gamers have faced online or in-game sexism, hostility, harassment and even death threats, the worst example being 2014's Gamergate controversy. Gender stereotypes persist, such as the belief that girls can't play as well as men or play "stupid" games like role playing or interpersonal relationship games. Additionally, anatomy used in female game characters can tend to be male-focused (for example, think 1990s Lara Croft).
I recently met two women, Michelle Zhao and Karin Skoog, who are changing perceptions about women in gaming, demonstrating gaming is a viable and enjoyable career and paving the way for future generations of women interested in this industry.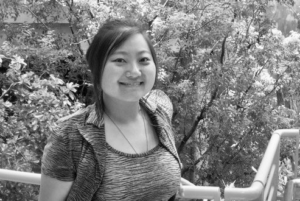 In her 20s, Michelle dreamed about making the world a better place as an interpreter for the United Nations. She enrolled at the Middlebury Institute of International Studies (MIIS) at Monterey intending to study translation and interpretation. While there, Michelle discovered MIIS had a Translation and Localization Management track, and with Silicon Valley only one hour away, tech and localization project management became her new focus.
In 2012 Michelle accepted a position at gaming company LAI Global Gaming Services as a Chinese Team Leader.
"As I started in the game industry as a localization professional, I developed a good foundation for understanding the details of well-designed game content and how a game can be produced with a global mindset in preparation for being published in 40+ languages," Michelle said.
Karin's entrepreneurial spirit and fascination with the business world guided her to an MBA after completing a Comparative Literature degree. It was during the MBA that Karin realized that video games could be a career option.
"Because of my interest in games, I geared many of my MBA projects toward the video game industry, such as conducting a financial analysis on Nintendo. I also created a feasibility analysis and high-level design for a Nintendo-themed amusement park," Karin said. "That was a blast to create!" After a graduate career fair, Karin accepted her first job in video game localization at LAI Global Gaming Services.
Founded in San Mateo, California in 1993, LAI Global Game Services started out as a localization provider for the video game industry, and later expanded to video game marketing and global publishing. Over the years, LAI released a long list of titles such as Perfect World, SuperHot, and Solitaire, progressing from console to PC to mobile gaming. LAI is now publishing mobile game titles under their own name.
Gaming Localization – A Unique Set of Obstacles
Karin and Michelle soon found that gaming localization presented its own set of challenges. "There are many struggles localizing narratives," Michelle said. "Not all jokes or puns can be translated. Sometimes stories are based on history or religion, or other cultural or political elements, which are not viewed the same way in different parts of the world. There are also adaptations for audio and video, and monetization and gamer experience expectations can vary across markets."
Karin and Michelle participated in the development of Game Market Analyzer, a free iOS app that helps game developers and publishers easily assess the ROI of localizing their game for global markets. "This app helps indie developers to increase their ROI in the global market by leveraging industry intelligence data and metrics to benefit international publishing for the global game community," Michelle said.
At LAI, Michelle manages indie game publishing, business development, as well as key localization accounts, sometimes into as many 40+ languages. Karin served as a marketing specialist, focusing on business development and marketing.
"I frequently spoke with developers and publishers about LAI's services, gave presentations about game localization at global conferences, and learned SEO keywords related to global game markets to push LAI to the front page of search engines," Karin said. "With game marketing, you don't need to go as deep into how the product can benefit a company as with B2B marketing and why it should be used for business operations. Purchases have more of an emotional component, such as the customer finding the story interesting or liking another game in a similar genre. It's more about 'Here's an awesome new game you'll enjoy, and here's why you should add it to your library!'"
Karin also served as a native English editor for game localization projects. "I edited game text that was translated by someone with limited English, which required quite a bit of creativity. My first challenge was recreating the text so it made sense in English, and then reworking it so it sounded good in English," Karin said. "Game localization requires strong creative writing skills for this reason!"
Michelle shared some photos of her 2017 visit to ChinaJoy, a Digital Entertainment Expo & Conference, held in Shanghai in 2017
In 2014, Karin joined Voltage Entertainment as a Game Producer/Game Designer. Voltage was localizing their Japanese games into English and starting to create original content for the West, so they needed someone with localization and gaming experience to drive this effort. With another Game Producer, Karin was responsible for creating an entire gaming world, including characters, plotlines, and character specs. She designed game mechanics and created composition outlines for key art pieces and characters so remote artists could produce their commissioned pieces. Adhering to certain Japanese conventions, such not showing a character's eyes, was also required for some titles.
"The idea was that players could see themselves more in the role of the main character when the eyes weren't showing," Karin said. "This was my first experience leading artists in game development, and I had very minimal art skills at the time, so I learned a lot on the job."
The Value of Industry Outreach
In addition to their day jobs, Michelle and Karin are very involved in industry outreach. In 2016 Karin co-founded Golden Moose Collective, a small group of independent game developers, each working on their own projects. The collective allows Karin to travel the world while creating her own games. Since 2016, her journeys have taken her to Korea, Thailand, Vietnam, Indonesia, Australia, New Zealand and Cambodia. Karin is currently working on a jungle adventure simulation game called In the Heart of Borneo, which is based on her recent travels in Malaysia.
"An awesome part of being an independent game developer and freelance localization game design consultant is that you can be location independent," Karin said. "My typical day varies depending on location, but for the most part my daily schedule is to wake up early, and either do creative writing or go to the gym. I have breakfast, commute to work – currently a 15-minute walk to a coworking space, sometimes in between a lot of activity at the nearby temple during Balinese holidays! I sometimes pick up lunch from a street stand, answer emails, check my task list, estimate how long it will take to complete tasks, and work a full day according to my list. I may do a little more writing in the evening, relax with a book or game, or do some marketing work. I currently reserve at least one full day a week for client/consulting work so I can dedicate my full attention to it."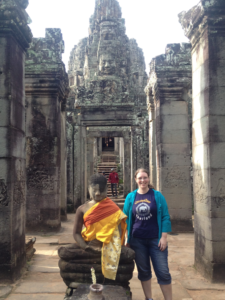 Karin sees the sights at Angkor Wat, Cambodia
In 2015, Michelle organized Global Game Day, a part of industry event Mobile Gaming USA. In December 2017 she presented at Game Quality Forum. "I was invited as a panelist on the first day for 'Panel Discussion: Where in the World?," Michelle said. "This event brought together video game professionals, such as Producers, QA, Content Management, and Localization, to discuss topics that they have encountered and present their solutions."
Michelle's 2017 trip to China included visiting clients in Beijing
Michelle has also lectured on game localization at the University of Maryland, MIIS and Bingham Young University, and been a guest speaker in Beijing and Dalian, China. "I really enjoyed interacting with curious and bright minds. When they are asking questions or giving feedback, it always felt like another chance for me to revisit my understanding of game localization."
Karin's most rewarding experience has been getting involved in Malaysia's game development scene in Kota Kinabalu, on the island of Borneo. Karin and a Golden Moose Collective colleague attended weekly meetups, presented their experiences to indie developers, and participated in a game jam. They also taught an Intro to Unity3D workshop. A cross-platform game engine, Unityis primarily used to develop both two- and three-dimensional video games and simulations for computers, consoles and mobile devices.
"It was very fulfilling to teach a group of people new to Unity and see them experiment with the things they learned," Karin said. "I plan to do more events like it in the future as I want to promote game development education, especially in areas that don't already have programs available." While traveling, the Golden Moose Collective team enjoys meeting fellow game developers in different countries to exchange ideas, give talksand do workshops.
Despite working with games all day, Michelle and Karin continue to enjoy games in their free time. Both like that puzzle games challenge them mentally, and narrative games transport them to other worlds, similar to books or movies. Michelle's favorite platform game is Super Mario. She also likes open-world adventure games like Horizon:Zero Dawnand MOBA (Multiplayer Online Battle Arena) games that she plays with friends, like Arenaof Valor. Before bed or when just waking up, Michelle plays casual or strategy games like Clash Royale, Rage of Kings, and Mind Mould. Karin prefers strategy, simulation, puzzle, narrative-driven, action and RPG (role playing games). Some of her favorites are Civilization,The Witness, Braid,Stephen's Sausage Roll, What Remains of Edith Finch, Firewatch, Gorogoa, The Long Dark, Democracyand older Final Fantasygames (VI-X).
Due to emerging technologies such as virtual reality (VR), augmented reality (AG), and mixed reality, gaming is expected to grow from a $90 Billion industry to $130 Billion by 2020. As a result, demand for gaming localization worldwide will also increase. "As the Western markets become more saturated and crowded, game developers will have to consider global markets if they want to 'stay in the game' so to speak," Karin said. Expectations are thatthe largest growth marketwill be the Middle East and North Africa (MENA), which is currently growing at a rate of 25% year-over-year. This is in comparison to Latin America's 13.9% growth, Asia Pacific's 9.2% growth, Western Europe's 4.8% growth and North America's 4% growth.
Breaking into a Gaming Career
For those interested in a career in game development or gaming localization, the field requires passion and an interest in constant learning and problem solving.
"I enjoy working with creative and talented people who are so passionate about what they are doing. I also enjoy solving puzzles when different challenges come my way," Michelle said. However, she feels one of the biggest challenges for game localization professionals is how to educate and communicate with developers, who may not be aware of or experienced with cultural differences.
Karin agrees. "I'd say the biggest challenge is getting more developers to realize quality localization is important, and that it's not enough to use fan localization or Google Translate. I'd say this is slowly getting better, but there's still a long way to go," Karin said.
To get started in gaming, Karin recommends novice game developers download and learn Unity.
"Make the smallest game you can make, put it on a website (a portfolio) and continue to build that portfolio, with other small games from Meetups, game jams, personal projects."
FutureGames, a two-year, hands-on game development program in Stockholm, Sweden that Karin attended also prepares students for careers in game design or game programming. During her first week, Karin and her fellow students learned the basics of a game engine, split into groups and had to make a game in two weeks. Karin firmly believes that one of the biggest advantages of FutureGames is the strong student placement rate after graduation, estimated to be close to 80%.
Joining professional groups, such as the IGDA chapter on Game Writing, groups involved with game localization, and volunteering at local game conferences can also help when first starting out.
Despite the negative reports about the gaming industry, both Michelle and Karin wouldn't change a thing about their career paths. Karin relishes the freedom that a gaming career allows.
"Gaming is an empowering industry where you are only constrained by what you thinkyou're capable of, and your own imagination. With independent game development in particular, I like that I am in control of my own destiny. I have the freedom to shape my own work and create the things that interest me the most." For example, with her new game In the Heart of Borneo, Karin is gaining experience programming for a systems-driven game, something she didn't previously know how to do.
Although Karin concedes that game development tends to be more male dominated and there are fewer women overall in game AI and independent development (she also previously worked as an AI & Game Designer for Avalanche Studios' theHunter: Call of the Wild), she's encountered a fair number of female programmers, artists, designers and producers.
"The video game industry is an extremely welcoming place overall. When it all comes down to it, we're all interested in seeing more good games enter the marketplace. More developers mean a greater chance we can discover new ways of interacting with games and promoting games as an artform," Karin said. "The industry is bigger than the movie industry and continues to grow as gamers globally gain more access to PCs and mobile devices. If you're interested in video games and languages, I can't think of a better fit than game localization."
Michelle agrees. "I have encountered some awesome female producers, artists, localization and community managers in the gaming industry. They are super cool! Everyone has such interesting tastes on games and culture. I am always fascinated by how creative and talented people are in the gaming industry."
Michelle will be starting her summer with a new and exciting opportunity in Houston, Texas working for entertainment company Six Foot. Michelle will be contributing her expertise in localization, internationalization, PR and marketing starting with Six Foot's Dreadnoughttitle for Console and PC. "There will be lots of super legendary people from the gaming industry there," she said. "I'm thrilled to be joining their team!"