We are all tired of the stream of information found online at the moment: the pandemic, working from home tips, the gazillion online courses you'll never take or recipes you'll never cook. Honestly, I find that frustrating and it makes me feel burned-out. During such tough times we need some solace.
I decided to find an expat woman and have an intimate, personal conversation. Being a new immigrant, trying to adjust my life to new circumstances, I craved a talk with an inspirational woman who has been through the same and there are a lot of immigrant women in our localization community who would find this relatable. It's great to remind yourself that you're not alone and I genuinely hope this conversation will provide some comfort in these uneasy times.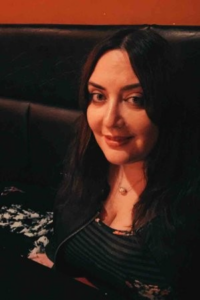 Olga Beregovaya is an executive with over 20 years of experience in the Localization, Globalization and Language Technology field. She is Vice President, AI Innovation at Welocalize, and a former President of the Association for Machine Translation in the Americas. Her background is both technical and linguistic, a combination that women don't necessarily gravitate toward! Olga also is in high demand with expert-level knowledge in the industry and regularly presents at conferences.
Q: Olga, thank you for sharing your story. I'd like our conversation to be a talk about life and your journey as an expat woman. Why and when did you move to the US?
A: I moved in 1993 from Saint Petersburg as a Jewish refugee, which was a pretty common thing at the time. Getting out of Saint Petersburg at that particular moment certainly felt like a good idea as things were a bit concerning… Even more so when you are a mother to a two-year-old, and Jewish. We had family in San Diego so it was pretty easy for us to relocate. I remember vividly how we landed in October in the middle of the hot Santa Ana desert winds, wearing fur coats and woolen scarves! It was so hot that the only place I could function was at the frozen meats' aisle of the local supermarket – which was exactly where I took the baby stroller for a few hours daily.
Q: Your journey is inspirational: you worked your way up! It is always hard to start building your life from scratch under new circumstances. How did you start your professional life here? Did you have any mentors? Do you have some tips for newcomers?
A.: As I mentioned, we were Jewish refugees so the Jewish Community really helped us out the first few months. In addition, our family (my two aunts and two uncles) were extremely generous. They furnished the apartment, drove us around and helped us with grocery shopping, but I knew I had to work out what my plan was. I was 21, had my first degree from Russia – so what am I going to be when I grow up? My first three jobs were waitressing (I lasted three days, dropping dishes and failing to understand American English), a sitter at a nursing facility and an appliance store admin. The latter two provided an opportunity to study for my GRE exam during work hours, so I studied, worked and watched my son all at the same time. A year and a half later, I was admitted to UC Berkeley, which was a completely different chapter, with so many fond memories. I arrived at the campus on the first day and saw a parking lot with the sign "Nobel Prize Winners Only" with eight designated spots. It certainly sets the bar high!
Q: What was the most enlightening thing about immigration? Did you ever regret anything?
A: Sizzler's, driving and American English, in order of magnitude! But not a single second of regret. The opportunities were infinite, the fridge was full, somehow (miraculously) the Chevrolet Celebrity was borderline operational, and tacos in Tijuana were four for a dollar. While we were not really persecuted in Russia – I got to go to Saint Petersburg State which is a top school and my dad and granddad were both professors – it was still pretty refreshing not to be called a Jew in the street and not be followed by the KGB when going to a synagogue (I wasn't really going for religious reasons, they just had the best parties). But in full seriousness, it was all about the opportunities and the support I was getting from everywhere – as a single mom I was able to go to school, support myself, and support my child. During my ongoing education I was blessed to have the best professors and mentors both in Russia and at Cal, many women among them. I was studying languages and linguistics, so they were all from different countries and different cultures, everyone with a great story, and I was always of the opinion, "If they can – so can I".
Q: Were there things in the new culture that you had to adjust to? How do you keep a little bit of home with you as an expat?
A: Adjusting to the new culture was pretty easy and I'm not sure I did much of it in the first year. I immediately made a lot of Russian friends and moved in with a Russian boyfriend – who is still one of the dearest people in my life as he, among other things, typed up my papers. We Russians are really tight-knit, and I am still very close with both my San Diego and my Berkeley friendship groups. The list of people who were allowed to pick up my son from preschool was about 25 – all from my immediate circle of friends – and my house keys were distributed around the community freely.
But now when I think about it, the main things in terms of cultural adjustment were not oversharing and becoming more aware of cultural sensitivities. I needed to not tell my life story to everyone who asked how I was, and I needed to adapt how I express myself – I was typically less PC back home; there's nothing wrong with either approach, it's just different.
Now, bringing home here with me… For starters, I brought 200 volumes of World Literature in Russian translations. Secondly, together with my business partner, we used to bring Russian bands to North America on tour, so I built the best of both worlds. And not forgetting, we do the Chekhov "dacha" sitting at each other's houses talking about books, film and how to best pickle mushrooms.
Q: Successful people seem lucky and flawless. But I truly believe we should concentrate on our failures and learn from them. Can you share an unsuccessful event in your life that formed you and made you stronger?
A: Well, I would say that "moving to a new land, speaking the Russian version of British English with $2,000, mother who did not speak English and a child" was my biggest character-forming event. Apparently, I am not technically capable of driving, so it took me four times to get my driver's license and the DMV person made me promise that I will never drive in the part of town where he lives!
Perhaps the first real endurance test was being a floor assistant at a major investment banking firm – I was just not designed for the job and I was sent home to change roughly twice a week (although I was confident that I was perfectly dressed for the workplace). Every morning, I woke up knowing that I needed my paycheck, however, at that point I'd have much preferred to get my food through fishing and gathering! But, somehow I managed to be there for a year, learn a lot, make great friends and make my next career move…
Q: It is always hard to keep work-life balance when you have so many career-related commitments. What are your guilty pleasures that keep your dopamine levels steady?
A: Definitely! For me, yoga three times a week and mixology keeps me level – I think they somehow level each other out. The best way to make me happy is to give me a book on vintage cocktails. Well, that or a good hour-long Ashtanga sequence.
Q: You are definitely a great example of a self-made woman. Could you name three women who inspire YOU, and why?
A.: Three? Ok, let me try. First and foremost, Frida Kahlo. I doubt that this is revelatory to anyone, I am sure many women are inspired by her. But, if I think about one woman who demonstrates real strength and real accomplishment, then to me, it would be her. Second, a dear friend who has always been an example of what a super-smart, super-driven, exceptionally-talented professional woman can accomplish. She is extremely successful, completely self-made, always classy and best-dressed (on the subject of vintage cocktails…). Third, Sharon Stone, just because she is the coolest.
Olga, thank you so much for this conversation! It was a pleasure to have you with us, and I am sure your story will be very inspirational for many Women in Localization members who are following in your footsteps!