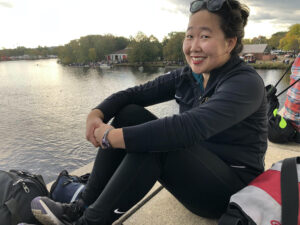 When I graduated with my Bachelor's degree from the University of Colorado-Boulder, I hadn't the faintest idea of what was ahead for my career. A career in Linguistics and Chinese? What do I do with a B.A. in that? Upon graduating in 2011, I wasn't exactly sure how to apply my degree towards a "new career". After several months of soul searching and working part-time jobs in Boulder county, I found myself teaching Chinese at Fairview High School. It just so happens to be my alma mater.
After three years of teaching high school-level Chinese, it was time to shake things up and pursue a graduate school career. The first stop was at the Hopkins Nanjing Center in 2015. Then in 2016 I packed my entire life in a 1998 Subaru Outback and headed to Monterey, California where I finished with a Master's degree in Translation and Localization Management.
Over the last decade or so, I've jumped around from company to company trying to find a sense of what I wanted to do with my skills. Although this time as a post-Master's graduate, it proved to be even more challenging. I was entering a new industry with a new set of experiences and knowledge that required cautious navigation.
As I'm typing this, I'm reflecting back on some of the career challenges that I've had to battle over the last decade. Here's what came to me.
Layoffs
Let me preface that layoffs will happen in any industry. Long-term careers are ideal, but brace yourself for sudden impacts, just in case.
In 2020, right as the pandemic started, I was laid off. It was a devastating blow. I truly enjoyed working in San Francisco. The hustle of taking BART from Oakland into the "city" on a daily basis. The walk down Mission, the podcast binging, and inhaling the wafting aroma of chocolate rising from Dandelion Chocolate factory are aspects I miss dearly. How on earth do I overcome such a devastating blow to my career trajectory and livelihood?
There's no simple solution, but my family reminded me of the following Chinese saying: "Unlike trees, we (humans) can uproot and survive."
I took these words with me as I was navigating my post-layoff life. Survival was key. Here's what helped me get through this particular rough patch:
Exercise. This involved a lot of socially distanced hiking in the East Bay, yoga indoors, and biking along the bayshores in Oakland.
Finding part-time work. Be it remote tutoring or working at my local Trader Joe's, I figured out ways to stay afloat as I was trying to strategize my next career move.
Applying for jobs. I dedicated my mornings to applying for jobs. I tailored my resume and cover letters, filled GoogleDoc pages with reflections on what I gained from previous roles, and how I could apply these lessons to the next opportunity. I didn't wait for the opportunities to seek me out, I felt compelled to continue on with my "go getter" attitude.
Being heard in the office
Be it in education or in tech, I learned the importance of "how to be heard" and how ideas get implemented. My takeaway is this: one can complain the whole day, but if you want things to be implemented, build your case. Think like a lawyer, so to speak. If there is a process you want to see change for your team, again, build a case.
Set the scene, identify the issues. Perform a SWOT analysis.
Be solutions oriented. Yes, again, you can complain all day, but build the solutions to your problems.
Provide the data. Do the math. If one process is eating up everyone's time, show your team the data and how (in numbers) this impacts your team or even your own bandwidth.
Be objective, clear, and communicative with how you hope things can move forward.
Time management
There are only so many hours in a day. Managing budgets, invoices, PO's, and projects proved to be challenging. I relied on asking my co-workers as to how they were able to find a sense of balance, being able to finish everything on their plate on a daily basis. Initially, written checklists were my solution to managing all my daily tasks, but I quickly realized the importance of staying open to new ideas. For instance, there are a number of project management software tools on the market that can help you get through a busy day. Do your research, give tools some testing, it's all about trial and error until you figure out what works best. It won't happen overnight and there might be a lot of hand holding with your teams, but remember to embody a solutions-oriented mindset when tackling these types of challenges.
I can't provide a magical elixir to wave away the stress and hardships we all may be going through right now, but I hope that these strategies can provide some solace and comfort during one of the most stressful times of our era. However, if I were to give one last piece of advice it would be this, remember to take care of yourself. Reach out when things feel overwhelming and take every day in stride, one day at a time.
Until next time.