During my last trip to the Nordics I had the opportunity to interview the Finnish LocLunch ambassador, Tarja Karjalainen. Tarja's work in localization User Experience (UX) and Customer Experience (CX) is shaping the way Nordic tech companies such as HappyOrNot are welcoming and immersing new users in the global marketplace.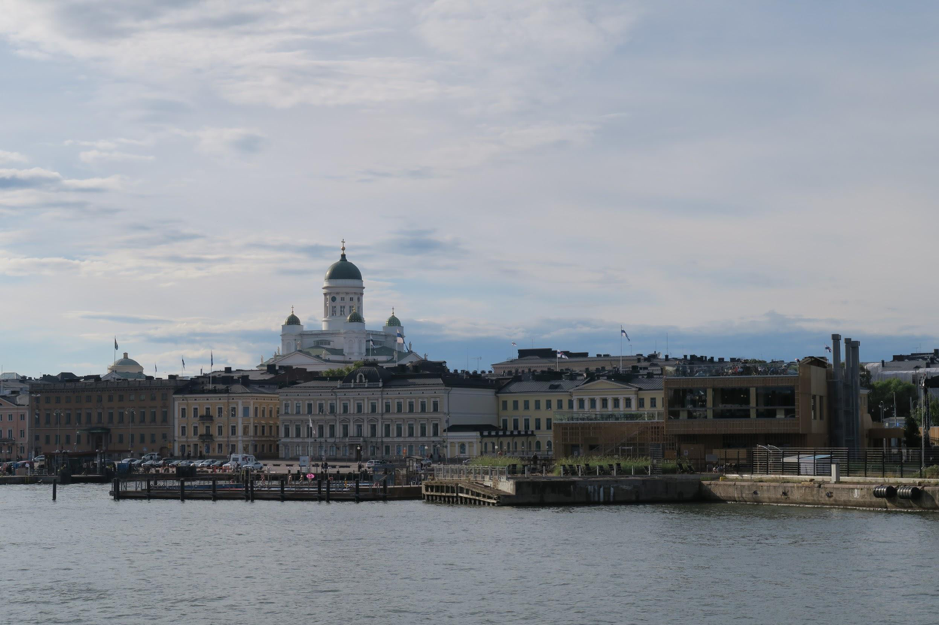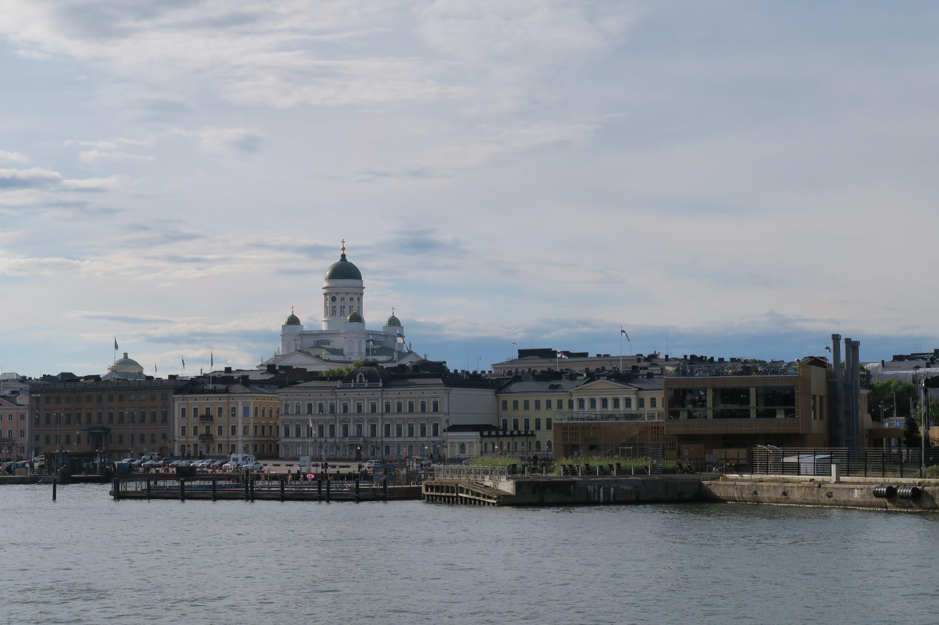 Helsinki, the capital of Finland and world capital of ICT and digital transformation, is an active tech hub and the home of Linus Torvalds, Supercell, Rovio and SLUSH, the world's leading startup conference.
Tarja currently manages localization from start to finish at HappyOrNot, a leading solution provider for immediate customer and employee satisfaction analytics and reporting. Tarja's work includes ensuring that HappyOrNot's products and services are designed with different cultures in mind.
Visiting HappyOrNot HQ in Tampere, Southern Finland. Tarja (left) shows the globally recognized smiley-feedback panel and software to author Johanna Behm (right). You would never guess how much data can be pulled out with simple smileys!
Tarja first got interested in UX processes while working at Polar Electro, where she was a UX writer and worked very closely with a great UX team.
"I think that as localization professionals in probably all roles of the industry, you are inevitably very close to the customer to start with, as you are helping to convey the message in different languages and to different cultures," Tarja said.
According to Tarja, UX writers and professionals are expected to love writing, and the same applies for localization professionals.
"You are expected to want to translate everything. But on the contrary, I find that many of us in this field find ourselves often saying 'do we really need text there?' or 'I think we should not translate this'. That's where the UX aspect of localization comes into play," Tarja said.
Tarja sees localization as a key part of UX and CX, rather than a supplementary feature. "If you think about it, language is such a big part of who we are, it shapes our way of thinking and guides our behavior, so much so that we don't think very much about it. To me, trying to separate UX and CX from localization is impossible," Tarja said.
As an example, Tarja describes a use case where software is designed to collect personal information from the user. Not all cultures write first name first and last name second, which leads to complex naming conventions. Furthermore, in the case of marketing automation and sending personalized messaging, the consequences of neglecting this cultural preference can be very negative.
Tarja uses tools like A/B testing to see if new copy conveys the right meaning. As a top tip she advises getting a user's perspective from someone outside the development team. According to Tarja, the development team can be so close to the product that something obvious to them can be a mystery to the user.
"I also try and use as many [software] applications as possible; I try new ones and when possible, I try in my own language. It really keeps you connected with the non-English user's perspective. Obviously as a native Finnish speaker this is easy, not too many applications offer Finnish and it's is notoriously difficult as a UI language," Tarja remarked.
Tarja (Upper left) is actively bringing the LocLunch movement to Finland. Our discussion revolved around User Interface (UI) languages, and Finnish seems to be the most challenging one!
Tarja describes user journey mapping as another powerful tool for keeping track of international UX and CX. She explains that mapping different localization touch points along the journey helps to see the big picture and determine whether the customer's journey gets disrupted along the way. According to Tarja, carefully mapping these touch points helps the business to understand their customer's experiences while using the product or service.
"You might see that, for example, the user's journey gets disrupted the moment they have a technical issue, as you may have your product localized in a certain set of languages, but no support materials in those languages. Or similarly, your customer is using your product in their own language but always receives emails from you in English," Tarja said.
Tarja says HappyOrNot is a localization manager's dream company. The HappyOrNot team represents more than 15 nationalities and Tarja is often able to consult someone internally in moments of doubt.
"Having offices outside Finland is a real benefit as you have access to insider knowledge of different countries and cultures," she remarked.
Tarja recognizes that commercial cultural customs pose another difference in CX. According to Tarja, sales practices and expectations can differ greatly between markets. Whereas a German customer expects a sales person to provide physical copies of marketing and sales materials for review after the sales pitch, another customer in a different market finds physical materials less important.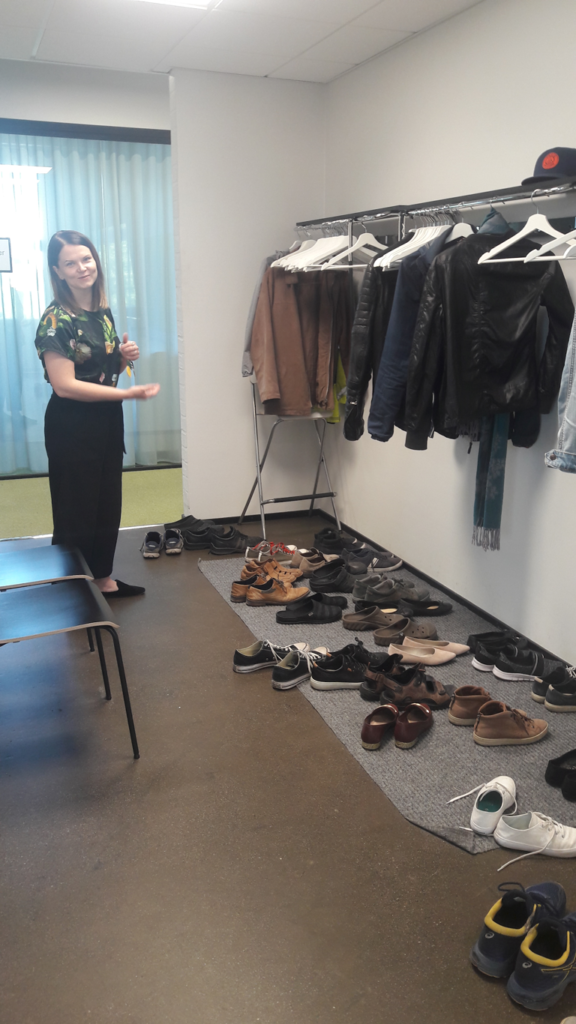 Finnish cultural lessons part one: Remember to wear nice socks, because you will be asked to take your shoes off!
HappyOrNot has offices in the USA, UK, Germany, the Netherlands and France. I asked Tarja if she has identified any major differences in UX and CX across these markets. According to Tarja, UX and CX do indeed differ across markets and this shows most in tone of voice.
"We need to be aware of how different markets are used to being addressed, especially in terms of marketing communication, this needs careful consideration. What works in the US might not work very well in Germany," Tarja replied.
Tarja acknowledges translators are the real heroes who transform messages for other cultures. "We really don't appreciate them enough for this skill!" Tarja exclaimed.
Ensuring the same experience for all users and managing over 30 languages is Tarja's greatest UX and localization challenge. She prefers to start by ensuring the same translation quality in all languages and the product is not thought too English-centric, though English is the official design language.
According to Tarja, a good marriage between localization and UX/CX is when localization goes unnoticed. In other words, you have done a great job when the user doesn't notice that the product or service wasn't originally designed in their own language.
"It's fair to say that localization and UX are the unsung heroes of successful products—when it's successful no one even notices, but when it's not successful, people will always notice!"
Interested in learning more about UX and CX in localization? Tarja and her peer María Jesús de Arriba Díaz from Vistatec (Ireland) are launching a webinar series about UX and other localization topics in September. Be the first to hear about official launch by following Tarja on LinkedIn.